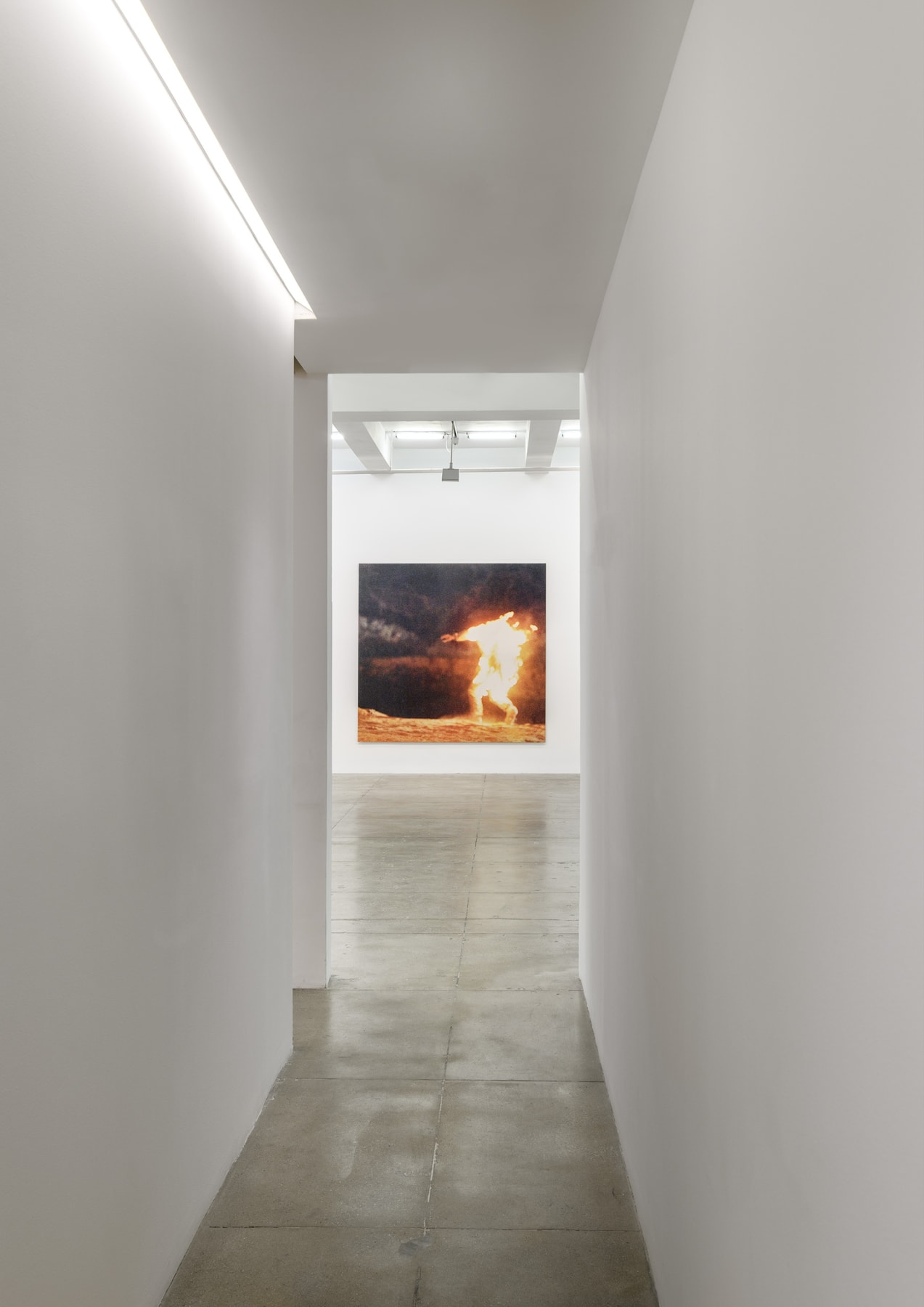 28 June - 24 August 2018
New York
Summer Selections
Overview
Marian Goodman Gallery's summer exhibition features a selection of works that make their debut in the New York space. Chosen from a range of exhibitions and projects at institutions from this past year, they include highlights that showcase a variety of media and forms, as well as a diversity of practices, that are utilized by the gallery's artists.
Summer Selections
June 28 - August 24, 2018

Marian Goodman Gallery's summer exhibition features a selection of works that make their debut in the New York space. Chosen from a range of exhibitions and projects at institutions from this past year, they include highlights that showcase a variety of media and forms, as well as a diversity of practices, that are utilized by the gallery's artists.
Nairy Baghramian's work constitutes sculpture and installation, often alluding to architecture and the fragmented human body. A skeletal quality embodies the four-part sculpture Chin Up (First Fitting). The large, organ-like pieces are akin to kidneys and livers, the structures of which look as if they are supporting the skeleton, rather than the other way around. The sculpture, which consists of waxed wood and polished and lacquered aluminum, receives additional support from the gallery wall to which it is affixed. This work was featured in Déformation Professionnelle, which was held at the Stedelijk Museum voor Actuele Kunst (S.M.A.K.) in Ghent, Belgium in 2017 and then traveled to the Walker Art Center in Minneapolis earlier this year.
Baghramian's work addresses temporal, spatial and social relationships to language, history, and the present; her forms materialize in response to contextual conditions or the premises of a given medium. These structures offer the possibility of an open and discursive dialogue in response to a site, or a freeing of the assigned relationship between an object and its meaning.
A subtle light emanates from a new work by Cerith Wyn Evans, a chandelier manufactured from Murano blown glass. The design of the lighting fixture is a reconstruction of the classic Venetian Rezzonico chandelier. Wyn Evans's own piece consists of 12 lights, clear glass and white candles. The illumination of the work is timed to music composed by the artist and arranged by David Cunningham. It is coordinated through a computer program, and the chandelier flickers to the music and the duration of each note.
Ettore Spalletti brings personal history to his latest works. His paintings serve as a reflection of the present and remembered landscapes of Abruzzo, a region along Italy's Adriatic coast where the artist has lived and worked his entire life.
Spalletti's artistic process is based on meditative repetition. He builds layers of pigment on a panel for months, dedicating a certain time of the day – every day – to tend to each painting. The final surface of the work emerges as a result of gently sanding the accumulated layers, a caress that reveals both an interior luminosity and an external skin that breathes a range of tonal and textural variations.

Improvisation and anthropology intersect in Adrián Villar Rojas's column, which is part of a series of works titled The Theater of Disappearance (XXXIV). Also referred to as a "tower," the column is comprised of layers of found elements. The foundation for the column was extracted from a former ice factory in Kalba, a village in the United Arab Emirates that sits right on the border to Oman.
The work, which first made its U.S. debut at L.A.'s Museum of Contemporary Art last year, was reimagined from its original construction at Sharjah Biennial, in the United Arab Emirates in 2015. The column is an amalgamation of stratified formation, concrete, cement, white cement, sand, coconuts and pigments.
A fresco in Italy inspired Quattro Ragazzi, 2016, the series of silver gelatin prints created by Hiroshi Sugimoto and recently shown at the Japan Society. The original wall painting featured the story of four young Japanese boys, called the Tensho Embassy, who were Christian converts sent as envoys to Europe in the 16th century by the seminario to demonstrate the success of the Christian mission in Japan. Realizing that he had photographed many of the locations that the boys had visited, Sugimoto re-traced their footsteps to continue the journey west, capturing the sites as he went. One of these locations, the Baptistry of Saint John in Florence, was where Sugimoto photographed the bronze portal, "The Gates of Paradise," created by Lorenzo Ghiberti (1378-1455) in the 15th century. Here we see one of ten biblical reliefs, "Gates of Paradise - 07 Moses."
The Difference Between Fête and Fate, 1987, was first created for John Baldessari's retrospective exhibition at the Museo d'Arte Contemporanea, Castello di Rivoli in Rivoli, Italy. It has been reconfigured as a multi-wall work, and the composite piece is scaled and enlarged to a room-sized installation. Comprised of a cluster of black-and-white photographs, the images render the subject of humanity and the animal kingdom in stark contrast to each other.
In the viewing room, the photographic work Firmament, 2014 shows fragments of feathers against a black ground, as if stars in an imaginary sky. The piece relates to an installation Lothar Baumgarten made for his 2014 exhibition at Marian Goodman Gallery, Los Aristocratas de la Selva y la Reina de Castilla. In this presentation, four ship models associated with the time of the Discovery of the Americas were shown on a scale of 1/20. This transformed the exhibition space into an imaginary topos. Represented as a sheltered world, mirroring the surrounding tropical cosmos and its equatorial firmament, it mutated into a zone and a space of contemplation. On the walls, the white down feathers from the chests of falcons and eagles – which are also often worn in celebrations – were embedded in wall texts. The painted names registered those of native rivers, invoking Amerindian societies and vanishing languages of non-writing cultures. Standing within the dark infinity of this black surface we come full circle to the image again in the photograph Firmament.
Gerhard Richter's Grau hinter Glas is an oil-on-glass work created in 2003. Richter's artistic oeuvre includes abstract and photorealistic painting, along with sculptures made of glass. Richter's incorporation of glass in sculpture began in the late 1960s. His use of this material in painting conceives of glass both as a transparent window onto a world and as a reflective surface, capable of mirroring reality, or conversely, as a structure without subjectivity, free of representation and narrative. Nevertheless, Grau hinter Glas calls upon our depths of perception and vision. Abstraction, a solo exhibition of Richter's work, is on view at Museum Barberini in Potsdam, Germany, through October 21, 2018.
Over the past decade, Thomas Struth has turned his lens to capturing the inner workings of industrial facilities and scientific research spaces around the world. His photographs relay the color, scale, complexity and energy of each site, bringing forth behind-the-scenes details of spaces normally not afforded public access. The color photograph featured in this show, Space Shuttle 2, Kennedy Space Center, Cape Canaveral, USA, was shot in 2008. Taken at a time that coincided with NASA's 50th anniversary, as well as one of the last successful missions on Mars, the image captures the artist's fascination with the intersection of science, politics and power in the U.S. space program. Space Shuttle 2 was last exhibited at Thomas Struth: Nature & Politics at the St. Louis Art Museum in Missouri.
Lawrence Weiner's language-based sculpture delineates "the relationship of human beings to objects and objects to objects in relation to human beings." His endlessly adaptive representations delve into philosophical queries on the nature of language, questioning the conventions of objecthood in relation to the producer and its viewer. His 2007 work, STACKS OF SEVERED TREES LAID BESIDE A FISSURE IN THE EARTH, on view in the north gallery, lays forth the relationships between language, objects and nature.
Please note: our summer hours are Monday through Friday, 10- 6 pm. For further information please contact Linda Pellegrini, Director of Communications, linda@mariangoodman.com, or call 212- 977-7160, or visit our website at www.mariangoodman.com.
Works