An-My Lê
This online presentation is now closed.
An-My Lê's expansive Silent General project (2015– ) documents a symbolically charged strand of recent history in the United States. The work was prompted by the June 2015 mass church shooting in Charleston, South Carolina. Concerned with extending reflection beyond the breaking-news cycle, Lê embarked upon an extended road trip to document the complexity of representing history.

"The title 'Silent General,' is borrowed — and applied very broadly — from a late essay by Walt Whitman. The reference is to Ulysses Grant, commended by Whitman as a simple man who triumphed as a Union general, served ably as peacetime president and, in retirement, traveled the world: a figure, it would seem, of universal veneration. And yet the country remains bitterly divided over the war's legacy: Witness a photograph by Ms. Lê of two bronze memorials commemorating the Confederate generals Robert E. Lee and P.G.T. Beauregard, that were recently removed from public display in New Orleans and crammed into a makeshift shed built by the Department of Homeland Security. Ms. Lê shows them hapless and hulking, touched here and there with wayward sunlight. Their abjection is stated without fuss or any hint of vindictiveness."


—Nancy Princenthal, "Troubled Turf: The Photographs of An-My Lê," New York Times, 3 April 2020

"Silent General is about what it might mean to respond to dramatic events at home and their intimate relationship to landscape and conflict. The fever-pitch level of rhetoric talks of civil war, and of breaches of the constitution gave me a sense of purpose and challenged me to photograph the American landscape. Elements of chance such as an invitation to photograph on the set of a period film taking place during the Civil War, the break-out of the controversy surrounding the removal of the Confederate monuments also came into play. They increased my sense of possibilities for finding meaningful contradictions in an American landscape characterized by competing realities."


-An-My Lê, "An-My Lê in conversation with Kostas Prapoglou," XIBT Magazine, 14 April 2020
"The flow of life that is integral to the vitality of the border towns between Texas and Mexico is antithetical to the rationale behind Trump's wall and his perspective of the immigration crisis."

—An-My Lê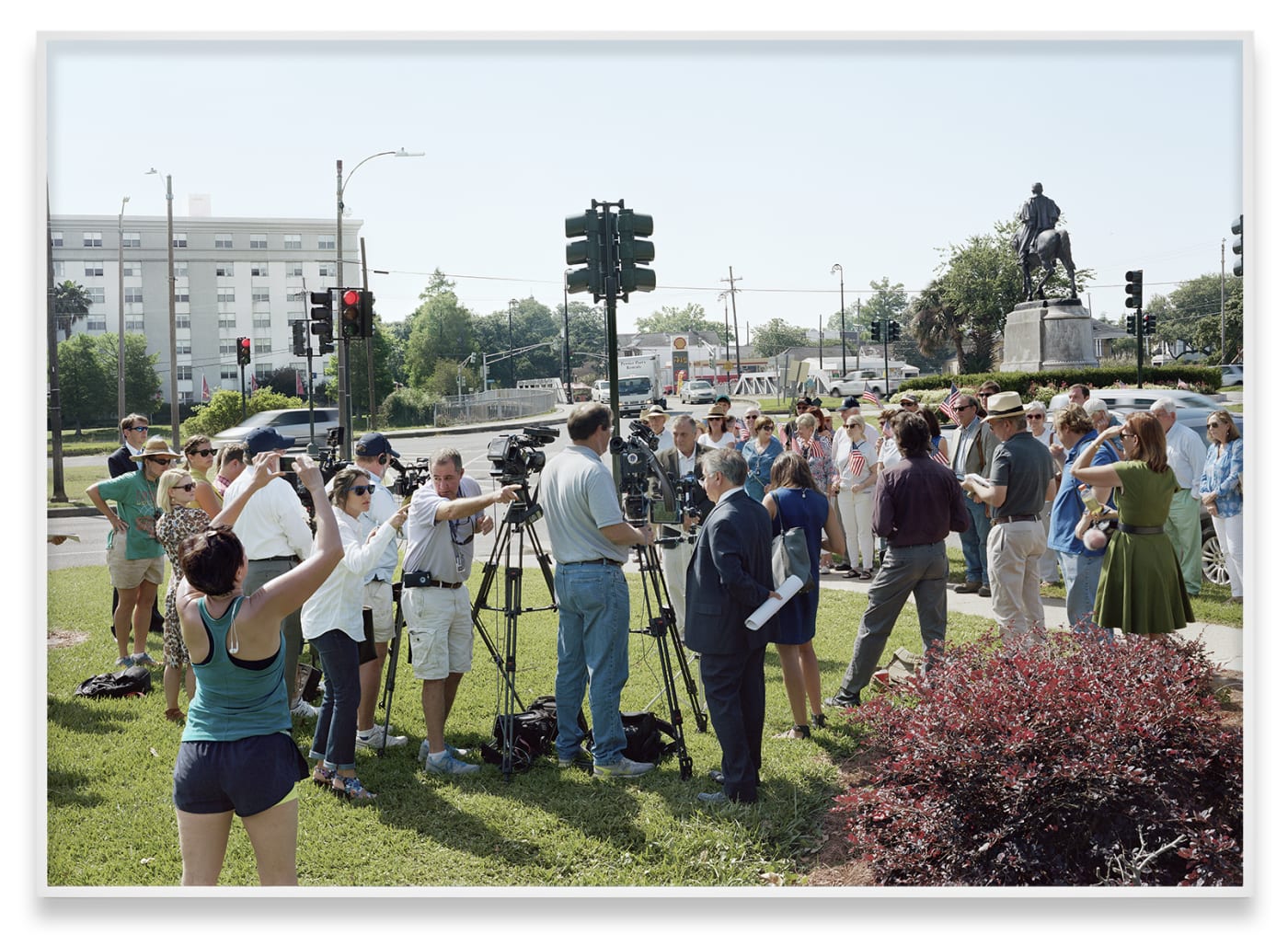 Pierre Gustave Toutant-Beauregard was a well-known Confederate general during the Civil War. He was outspoken about his hatred of African Americans before, during, and immediately after the Civil War. However, following Reconstruction, he changed his views and advocated for equal rights for blacks and whites, particularly in his home state of Louisiana. His statue was unveiled at the main entrance of New Orleans's City Park in 1915.

Another of Lê's photographs included below shows the statue in its current location in a Homeland Security storage facility.


—Wall text, An-My Lê: On Contested Terrain, Carnegie Museum of Art, Pittsburgh, PA, 14 March 2020 - 18 January 2021.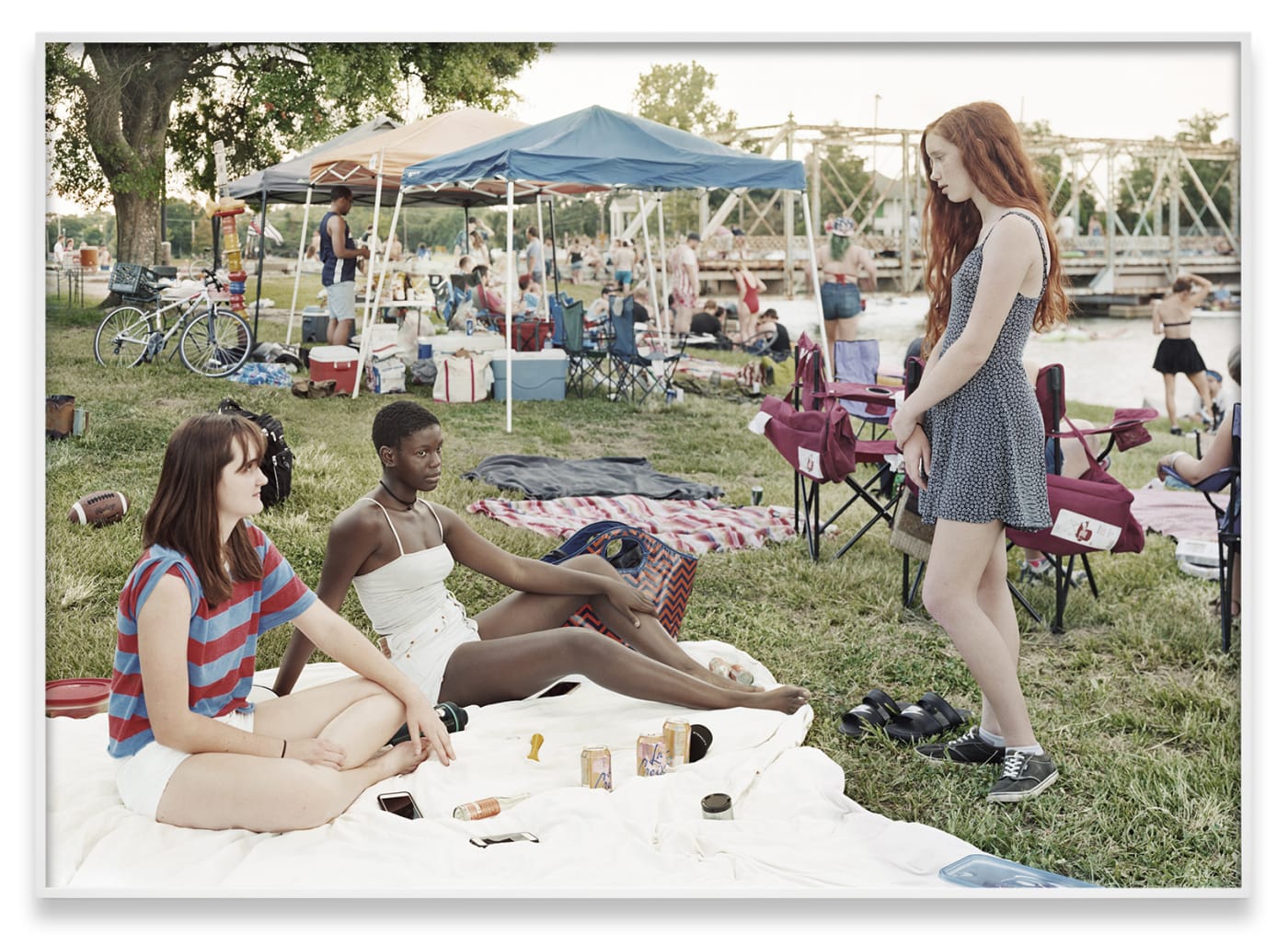 "Photography becomes the perfect medium for conjuring up a sense of clarity (if not necessarily the truth) in the midst of chaotic and polarizing subjects.

I aspire to achieve a certain lyrical objectivity. It is more about patterns of behavior than the specificity of it, which perhaps allows for a larger understanding of history and culture."


—An-My Lê
"All these pictures connect, in that sublimely terrifying, internet-aided way in which we intuit that all the ills of the world are connected. Each image is a symptom of the U.S.'s present divisions, denials, and distortions. Each is a product of crimes and betrayals almost forgotten or erased. What interests An-My Lê are the very high stakes of that forgetting and erasure, and the need to attend to their traces. Looking the crooked world straight in the eye is her way of doing it."

—David Campany, "An-My Lê," Photograph Magazine, March-April 2020
Born in 1960 in Saigon, Vietnam, photographer An-My Lê is recognized internationally for exploring the layered histories, aesthetic conventions and ethical considerations of photography. Having fled Vietnam with her family in 1975 to settle as a political refugee in the United States, Lê specifically engages with how memory, place and geopolitics form part of media representations of war, national identity and community. Informed by the histories of 19th and 20th-century landscape photography, documentary reportage and conflict journalism, Lê's work offers a reflection on how reality and myth are portrayed and contested.

Lê's work is also the subject of a wide ranging exhibition which runs at the Carnegie Museum of Art, Pittsburgh until 18 January 2021 and then tours to three further venues.