Gerhard Richter
A walkthrough of the 2020 exhibition at Marian Goodman Gallery, New York.

Marian Goodman Gallery New York's exhibition of new work by Gerhard Richter presents new abstract paintings and new drawings from the past three years, as well as a series of ink jet prints from 2012, and overpainted photos from 2008.
The show coincides with a comprehensive survey of the artist's work at The Met Breuer, New York, Gerhard Richter: Painting After All.

944-954
The abstract works 944-954 are marked by Richter's hybrid approach of control and chance, precision and expression, with rich-hued compositions that contain a dynamic fabric of chromatic and material strata. Through tiered layers of color, built up through intervals of time and in breaches in that structure — through layers, blurs, and scrapes — the rhythm of choice and accident in Richter's practice is on view in the North and South Gallery. The spaces of these works are simultaneously open and equivalent or in some cases more structured, bisected by vertical or horizontal movements. Some maintain a consistent all-over abstract pattern, and others reveal in their interstices a central sweep of comprehensive and pervading darkness beneath. Still others are charged with intense complementary colors that challenge each other on the canvas.

"Richter's late abstractions (painted after the Birkenau paintings) seem to have emerged from the doubts whether any painterly practice could still enact a critical resistance to its proper spectacularization. Facing that condition without cynicism, the seemingly random multiplicity of tints and tones and the compression of arbitrary factures now achieve the perfect pictorial balance between recalcitrance and resistance."
- Benjamin Buchloh | March 2020

954-1 Grey Mirror, 2018, refers to principles that have equally guided Richter's work since he first used glass in 1967. Using the material as a medium and subject matter, the glass works conceive of painting as a transparent window onto the world or as a mirror reflecting it, asserting the work's independent value from images. Whether a partition between reality and illusion; a generator of images through transparency and reflection; or as an avatar of grey monochrome, the glass works provide alternate means to explore truth in painting.

Grauwald, 2008, a series of ten overpainted photos in the South Gallery explores the intersection of grisaille and landscape. These works began as a series of photos taken by Richter in a forest near his home and are a distinct group within Richter's practice of making daily photographs and then overpainting them. Here the verdant images are veiled with grey lacquer.

"Grauwald (Grey Forest) expands the long history of Richter's acute confrontation between the photographic image and painterly act. Over time, the spectrum of his overpainted photographs has ranged from ludic provocation to melancholic contemplation. Simultaneously confronted with ecological disaster and universal aesthetic atrophy -- the almost monumental series Grauwald seems to conclude the once open-ended opposition of means."


- Benjamin Buchloh | March 2020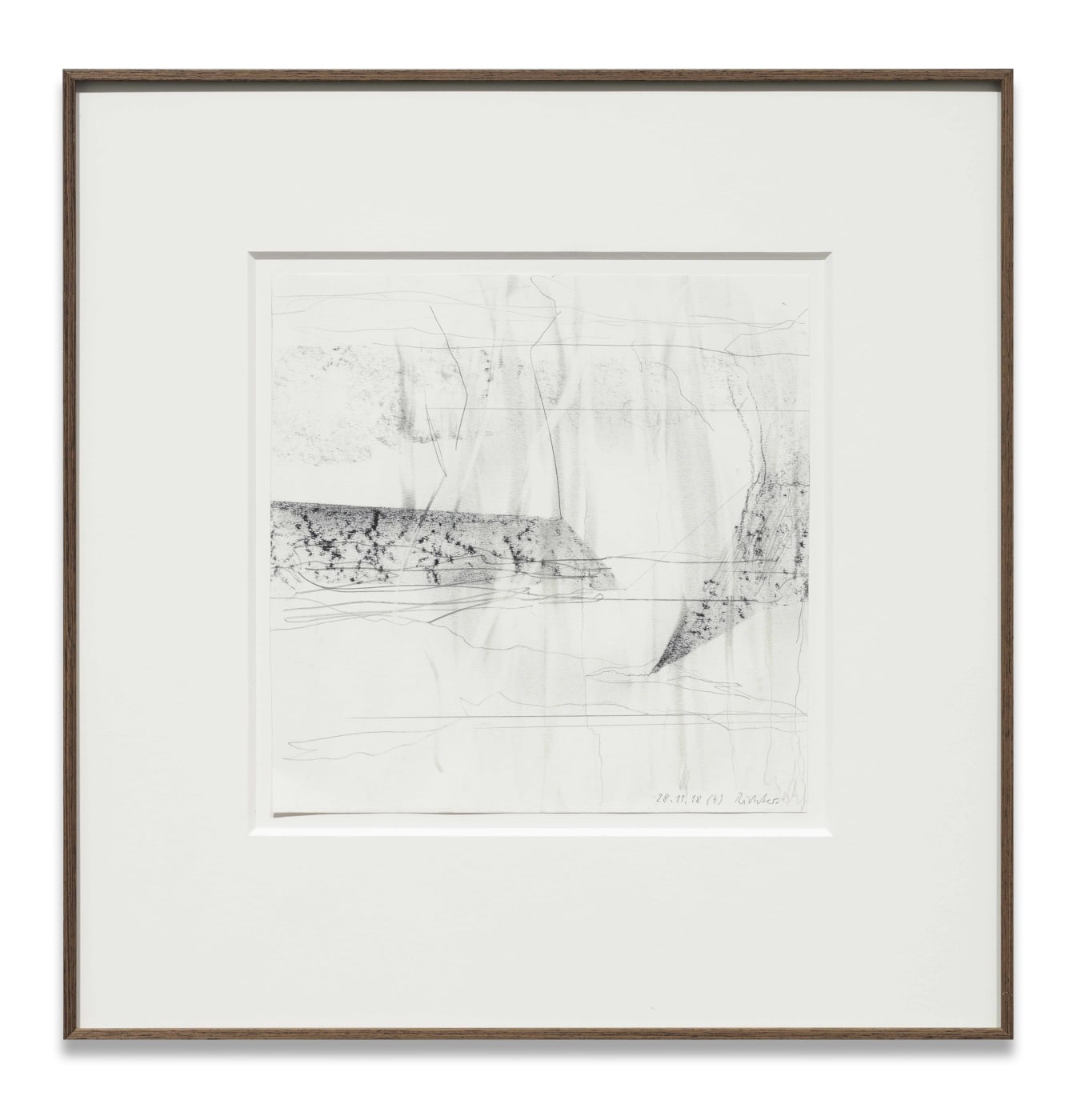 Adjacent to Grauwald is a series of six works on paper from 2018-19, which are among the most recent drawings by Richter. Often conceived of independently and at various intervals from the paintings, the abstract drawings seem to exist outside of representation. In these works, articulated planes and zones of geometric space intersect with both architectural and free-form graphic lines, frottage, erasure, and color.

"Gerhard Richter's drawings have accompanied his artistic practice from the very beginning. To some degree they mirror and reflect his paintings by transposing their abstract and representational space in a different medium but more directly drawing is being treated by Richter as its own, unique endeavor. Drawing, historically speaking, is first and foremost a purposeful expression and is generally linked to cultural conventions of purity and authenticity.

Even though some of Richter's drawings allude to landscape or geological formations they literally explore their medium-specificity and reveal the constructedness of intentionality while at the same time create an utmost poetic cosmos."

- Philipp Kaiser | March 2020

Nearby, Elbe, 2012 consists of thirty-one ink jet prints installed along the South Wall. Derived from the original monotypes by the same title that Richter made in 1957 while a student at The Dresden Academy of Fine Arts, they represent the earliest recognized works from this period of his oeuvre. Rediscovered after the fall of the Berlin Wall in 1989, they represent early transitions in Richter's work between traditional landscape and abstract space, and are reminders as Dieter Schwartz says, that "Richter's work is deeply figurative, always longing for a figure to appear in an abstract work."

"Elbe was created during Gerhard Richter's years at the Dresden academy, experimenting with an ink roller applied to paper. In their mood, the sheets are related to the watercolours of nocturnal landscapes he made in his youth.

The abstract forms evident in these sheets return in Richter's drawings and watercolours, evoking landscape features with distant horizons. Instead of inventing non-representational forms, he preferred to find ways to allow the picture to come into being of its own accord. Optimistic action – as taught by John Cage. Elbe alludes not only to the river in Dresden but to the constant flow of experiences that find a permanent form in the work of art."
- Dieter Schwarz | March 2020